It has now been 22 years since I've been back home – Philippines. I've never been back there ever since I've arrived here back in 1991. I don't remember too much of the scenery but the most I remember are my family.  I look at pictures that I have and don't recall much about where I used to live or where I played.  It's like a dream. You wake up only remembering 1 of many interesting things you dreamt about.  One thing is for sure, if I had that chance to go back home, I would want to visit as many places as I can.  Here are some interesting places to visit.
I've heard so much of this beach.  It's super white sand and its crystalline waters, diving, snorkeling, sea walking, jet skiing, parasailing or just island hopping. There are also attractions to the cave bats and other objects.
CHOCOLATE HILLS
This is pretty cool. They are hills covered with grass but they turn brown when the season changes – thus it being called "chocolate hills. You can see the beautiful view but you'd have to climb 214 steps to an observation outpost.
PUERTO PRINCESA UNDERGROUND RIVER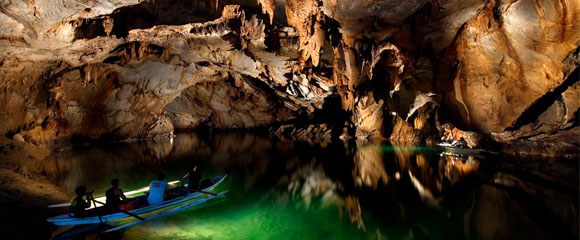 I don't like caves and the thought of being somewhere pitch black but if I didn't mind, I'd definitely go here. I read somewhere that this is one of the new seven wonders of the world so definitely worth checking.
CAMARINES SUR
Another beach but beautiful in its own way. I especially love the little huts with the canopy. It looks so inviting.
 Maybe soon I'll get to go and visit my family, it's a nice thought.
How about you? Where are you from? Are there any interesting tourist spots that you have visited or would like to visit? I'd love to hear about it. The world is a big playground and I would like to see what your country has 🙂
Thanks for dropping by.
Cap'd Out…Em